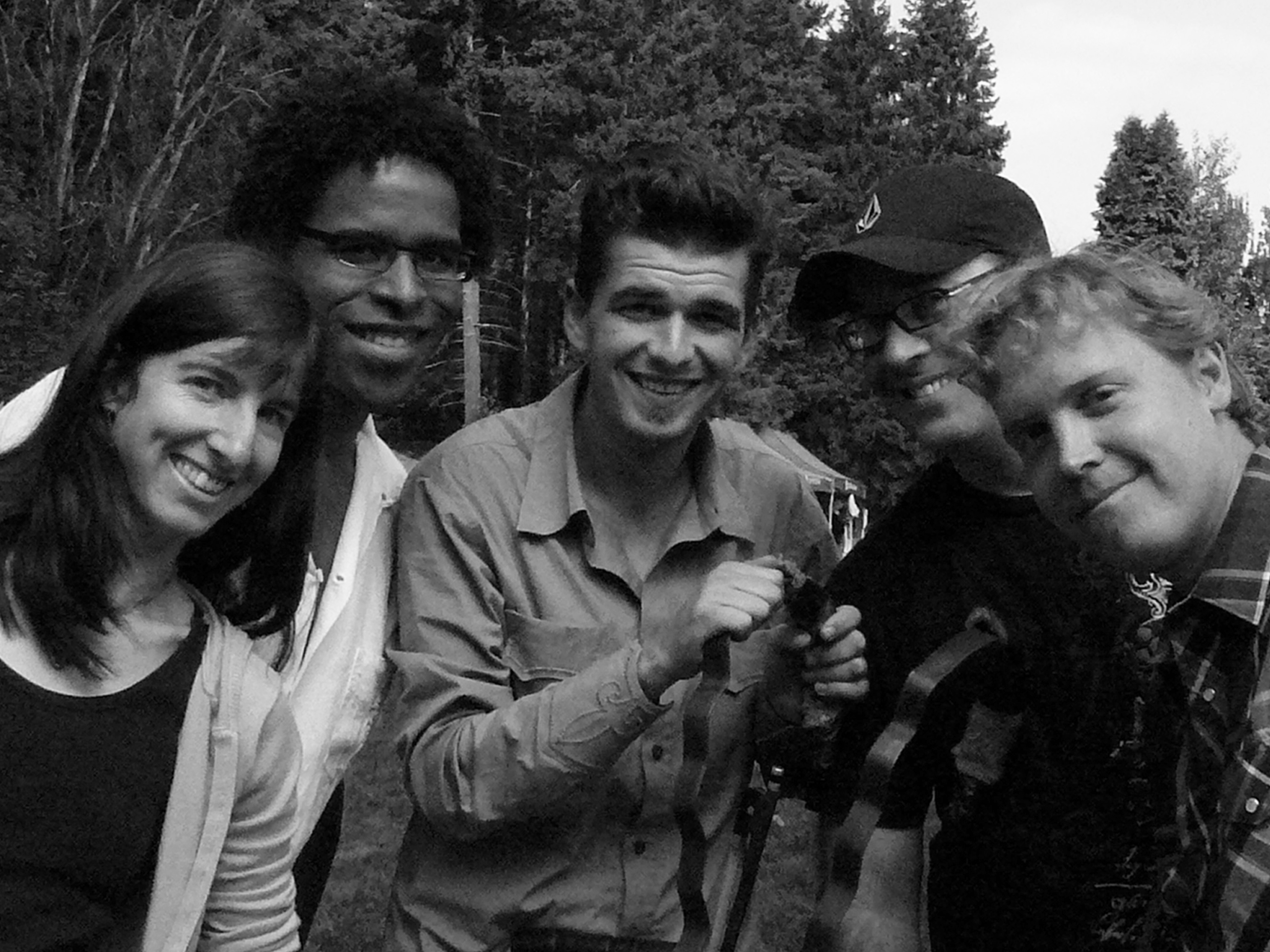 "THE SOUNDTRACK TO YOUR INNER CINEMA"
"This chamber improv group blends the unlikeliest of instruments: electric cello, oboe, acoustic guitar, and a suitcase of percussion instruments that ping, rattle, and chime."
- Chris Delaurenti, The Stranger
"Utterly unique"
Doug Haire, Sonarchy Radio, KEXP 90.3 FM
ABOUT GUARDIAN EAR Guardian Ear is an acoustic quintet from Seattle, WA. With the unusual combination of guitar, cello, oboe, and two percussionists, Guardian Ear blends the primitivism of tribal percussion with the art of classical composition to create a completely original sound has been called "avant acoustic chamber rock" and "thrashical", blurring all boundaries between low art, high art, world and rock. Founded in 2005, 2010 will see the release of their debut CD, "Guardian Ear". http://www.myspace.com/guardianear guardianear@gmail.com BIOS Irene Alexander - Oboe
Irene Alexander comes from a background of classical performance in oboe. She was a student at the Eastman School of Music, studying with Richard Killmer, and also spent a summer at the Aspen Music Festival studying with Elaine Douvas, senior teacher at the Juilliard School. She has been especially interested in contemporary music, and commissioned a piece which she performed for her senior recital. After college she moved to Seattle and performed professionally with orchestras in Seattle and the surrounding area, including playing English horn with the Anchorage Symphony. Conor Apperson - Congas, cajon, world percussion
Conor Apperson graduated with a master's degree in music performance from Northern Arizona University in Flagstaff, Arizona. There he studied with Dr. Steven Hemphill, studying marimba, drum set, and vibraphone performance, and playing with such groups as Ashe African Drum & Dance, as well as drum set with The Propheteers, and an Afro-Cuban group called Timba Vida. Conor also plays drums with local indie-rock band Landlord's Daughter, and teaches classroom piano and music. Clark Battle - Custom 5 string cello
Clark started taking private cello lessons almost 30 years ago at age 11 and played in school orchestras from then through graduation with a music and psych major from Colgate University. Although he was trained in a classical manner and played classical music, Clark's musical influences also include hard jazz, avant-progressive rock and Balinese Gamelan music. Through personal studies in woodworking and musical instrument design, Clark has designed and built many electric and acoustic instruments. He commissioned a custom five string acoustic cello and studied cello ergonomics with Seattle cello instructor Mannifred Funk which he now plays exclusively. John Delp - Doumbek, whistles, glasses, gongs, chimes, junk, suit case
Experimental percussionist John Delp was born and raised in Boston to a musical family. He cites the area's lack of atonal improvisation among the many reasons for his decent into urban culture and his subsequent establishment as a prominent force in the West Coast's burgeoning "hitting-something-you-found-with-something-else-you-found-and-calling-it-art" movement. He has played with groups such as Secret Chiefs 3, tsugaru shamisen masters Mike Penny and Kevin Kmetz, and the Yellow Hat Band. John is also a fervent home recorder and active member in the Immersion Composition Society. Jeth Rollins Odom - Guitar, tres cubano
Jeth Rollins Odom has played guitar for over 25 years, and has explored music from all angles as a studio musician, broadcast radio DJ, composer, critic, and published songwriter. Starting in the 80s, he played punk rock in Denver, CO, putting out a self-released cassette of his band Stonecrab Pierre in 1986. In the 90s, he moved to Seattle and played guitar in various bands including Los Hornets, Rain Dogs and The Outskirts, as well as being a DJ at KCMU FM. During this time Odom performed with members of or opened for legendary American acts like Black Flag, Minutemen, Dick Dale, X, Presidents of the USA, and the Reverend Horton Heat. He later went to Europe and attended composition courses by the avant garde composers Karlheinz Stockhausen and Iannis Xenakis. In 2002, The Absence of Theory, a CD of his abstract computer works based on studies created at Les Ateliers UPIC outside Paris, France, was released on his own label, Sonority. His work has been performed at the Festival de Música Electroacústica Primavera en La Habana, Havana, Cuba. In 2004 through 2007, he curated Binareality, an evening of electroacoustic music performances by Northwest composers. He is a member of the Electronic Music Foundation (EMF).